LIFE BALL VIENNA AUSTRIA
MAY 16, 2009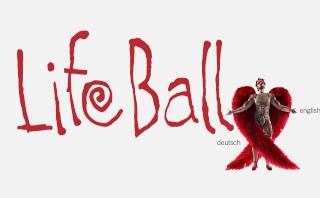 Vision and Mission
Life Ball is Europe's largest and most spectacular annual charity event dedicated to raising support for the worldwide fight against HIV and AIDS. Celebrating the beauty of life and the diversity of world cultures, Life Ball reinvents the great Viennese Ball tradition with glamorous, outlandish performances and inspirational speeches. It attracts huge interest in the media and is broadcast live on Austrian National TV prime time, with delayed airing in Germany.
To date the Life Ball has raised over € 10.5 million. It is the only AIDS charity event to take place in a government building. In 2008, the event raised € 1.4 million in one night.
Since 1993, world famous personalities and artists have lent their voices and support to Life Ball, giving their time and effort to make the charitable event successful every year. With their appearances, personal impulses and involvement, Sharon Stone, Sir Elton John, Kylie Minogue, Catherine Deneuve, Liza Minnelli, Kim Cattrall, Linda Evangelista, Heidi Klum, Dennis Rodman, Naomi Campbell and Randy Crawford and many more have inspired courage and promoted the joyful aspects of life and given a clear sign against discrimination and ignorance.
A sparkling show with a series of music and dance performances opens the event on the square in front of the picturesque Vienna City Hall. Each year, some 40,000 Viennese, the international media and the city's guests from around the world gather on the square to experience this glittering spectacle at close range. Live performances by international artists such as Anastacia, Scissor Sisters, Kool & The Gang, Julian Rachlin, INXS, Cyndie Lauper, Simply Red, Grace Jones, the Vienna Symphony Orchestra and the Vienna Boys' Choir have raptured the crowds in years past.
The opening ceremony features thoughtful moments with speeches by the Life Ball's international partners, such as Sharon Stone representing amfAR (American Foundation for AIDS Research) and Sir Elton John in the past years. Furthermore, a world-renowned celebrity presents the "Crystal of Hope" endowed with 100,000 Euro donated by Swarovski to honor the engagement of a pioneer in the field of HIV/AIDS.
The opening's grand finale is a glittering fashion show - so far Donatella Versace, Jean Paul Gaultier, John Galliano, Vivienne Westwood, Roberto Cavalli, Gianfranco Ferré, Missoni, Moschino, Agent Provocateur among others have presented their creations at the Life Ball. Both top models and dazzling celebrities can be seen on the catwalk. The involvement of the artists, models and hundreds of volunteers serves as a statement of humanity, tolerance and understanding.
After the festive opening, the opulent Life Ball night starts inside the Vienna City Hall. Open exclusively to 4,000 holders of Life Ball tickets, all halls and courtyards of the building are transformed into richly decorated ballrooms and dance floors. A versatile show and entertainment program with live performances by international stars, various music styles and many other entertainment facilities await the audience throughout the night. With their performances, participating artists make a strong statement for life and against ignorance and prejudice.
The Life Ball is organized by AIDS LIFE, an independent non-profit organization, created with the objective to raise money to support people in areas of the world most affected by HIV and AIDS. In 2008, a record result of 1.4 million US-Dollars was raised. In 2007 an additional 1 million US-Dollars was generated at the Dinner Gala with Bill Clinton the night before Life Ball 2007. Half of the raised funds go to national relief projects and half go to international organizations in support of HIV/AIDS treatment, research and prevention.
LIFEBALL VIENNA AUSTRIA